Why is it called an Oscar? And how do you pronounce Saoirse?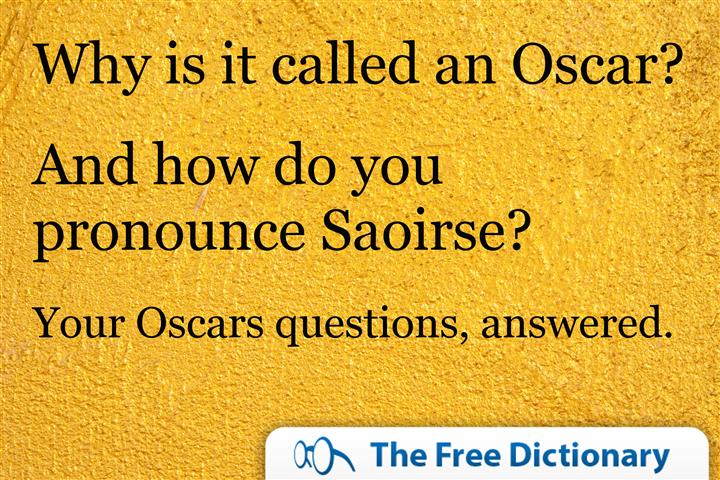 Before they roll out the red carpet for the 90th
Academy Awards
, the editors at The Free Dictionary are here to answer your burning Oscars questions and help you avoid any "
Adele Dazeem
" moments.
How do you pronounce "Saoirse"?
The first name of Best Actress nominee Saoirse Ronan may be one of the trickier names at this year's Oscars. The pronunciation of the name can vary, so the question isn't "How do you pronounce 'Saoirse'?"—it's "How does Saoirse pronounce 'Saoirse'?" And Ronan has been kind enough to offer instruction on multiple occasions that her name is pronounced "SUR-shuh."—like "inertia." In the Irish language, it means "freedom"—something any lady bird would approve of.
How do you pronounce "Chalamet"?
To call Best Actor nominee Timothée Chalamet by his name, you would say "SHALL-uh-may." As for his first name, it's pronounced like the traditional "Timothy," despite the accent.
How do you pronounce "Kaluuya"?
You don't know how to pronounce Best Actor nominee Daniel Kaluuya's last name? Get out! OK, don't worry, we're here to help. It's "kuh-LOO-yuh."
Why is it called an "Oscar"?
No one knows for sure, but the most widely accepted account is that the name was born when Academy librarian—and later Executive Director—Margaret Herrick began calling the statuettes "Oscar" because she thought they resembled her "Uncle Oscar" (actually her cousin). (In fact, the figure represents a knight holding a sword and standing atop a reel of film.) The Academy began using the nickname in 1939.
What is the award's official name?
The official name of the award is longer and more formal: the "Academy Award of Merit." And when the winners thank "the Academy," they are really thanking the "Academy of Motion Picture Arts and Sciences." Saying the full name would take up too many valuable seconds in an acceptance speech. Uh oh, they're playing the music. Thank you, Mom and Dad! Thank you, Saoirse, Timothée, and Daniel! Thank you, everyone!
Share
Tweet
---
Conversations